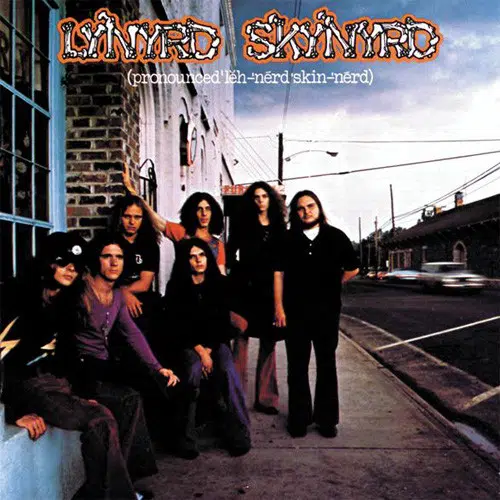 Pronounced 'Lĕh-'nérd 'Skin-'nérd was the debut album of the southern rock band Lynyrd Skynyrd being released on August 13, 1973. The album featured four of the bands well known songs; 'Gimme Three Steps', 'Simple Man', 'Tuesday's Gone' and 'Free Bird'.
The album cover photograph was taken in Jonesboro, Georgia on Main Street just before the album was released. The photo used for the band's debut album, it was the last photograph taken the day of shooting. Out of all of the members of the band photographed, Gary Rossington is the last surviving Lynyrd Skynyrd member after the passing of Ed King in August of 2018.
During the recording process of the album and working on "Simple Man", producer Al Kooper believed that the song was weak for their debut and should not be included at all. However, the band felt completely indifferent. When they couldn't change the producers mind on the song, Ronnie Van Zant then escorted Kooper outside of the studio and banned him from entering until the band finished recording the song. Though the band worked on the song without any producers, the song became one of the bands most famous tracks.
While the album released many of Lynyrd Skynyrd's well known tracks, it was also certified gold just a year later their release in December of 1974 while making platinum and double platinum in late July of 1987. The album also peaked at 27 in the Billboard 200 in 1975.
Track Listing:
SIDE ONE
I Ain't the One
Tuesday's Gone
Gimme Three Steps
Simple Man
SIDE TWO
Things Goin' On
Mississippi Kid
Poison Whiskey
Free Bird
BAND MEMBERS
Ronnie Van Zant – lead vocals, lyrics
Gary Rossington – lead guitar
Allen Collins – lead guitar/rhythm guitar
Ed King – lead guitar
Billy Powell – keyboards
Bob Burns – drums
Leon Wilkeson – bass guitar
TECHNICAL
Al Kooper – Producer/Engineer
Bobby Langford – Engineer
Rodney Mills – Engineer
Thomas Hill – Photography
Mechael Diehl – Design
Source: https://en.wikipedia.org/wiki/(Pronounced_%27L%C4%95h-%27n%C3%A9rd_%27Skin-%27n%C3%A9rd)
Photographs by Kevin Klimek