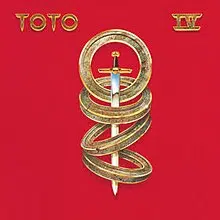 Toto IV is the fourth album from the band Toto that was released in 1982 by Columbia Records. The lead single, "Rosanna", peaked at NO. 2 for five weeks on the Billboard Hot 100 charts with "Africa" topping the Hot 100 chart which became the first and only NO. 1 hit for the group.
After the success for their first album, Toto was under a lot of pressure from Columbia Records to deliver a hit new album. After recording for several months between 1981 and 1982, the band recorded the album. This was the final album with the original Toto lineup. David Hungate, bassist, moved to Nashville to record the album but initially left the band to spend more time with his family. A few years later while recording their follow-up album, Bobby Kimball was fired due to drug issues that were damaging his voice.
The album received six Grammy Awards in 1983 including Album of the Year, Producer of the Year and Record of the Year for the hit song "Rosanna". Shortly after the release of the album, it reached NO. 4 on the Billboard 200 charts in the US while also reaching the top ten in countries including; Canada, Australia, New Zealand, the Netherlands, Italy, Norway, Japan and the UK.
Toto – Line Up:
David Paich: keyboards, lead and backing vocals, orchestral arrangements on "I Won't Hold You Back" and "It's a Feeling", horn arrangements on "Rosanna"
Steve Lukather: guitar, lead and backing vocals, piano on "Good For You"
Bobby Kimball: lead and backing vocals
Jeff Porcaro: drums, percussion
Steve Porcaro: keyboards, lead vocals on "It's a Feeling"
David Hungate: bass guitar