Formed in Winnipeg in 1965, The Guess Who formed success through the mid-1970s with hits that include; "No Time", "American Woman", "Laughing", "These Eyes", "Undun" and "Share the Land".
The band was formed by singer/guitarist Chad Allan in 1958 but was first called "Allan and the Silvertones" which was then changed to "Chad Allan and the Reflections" in 1962. The band's debut single "Tribute to Buddy Holly" was released on Canadian-American Records just 4 years after the band was formed in 1962. After signing with Quality Records, the band released several singles in 1963 and 1964 however they did not make the mark across Canada. In 1965, the group changed their name to "Chad Allan & the Expressions" after a U.S. group called the Reflections came out with the hit single "(Just Like) Romeo and Juliet". In the same year, the band produced their first hit, a rendition of Johnny Kidd & the Pirates' "Shakin' All Over". The track reached NO. 1 in Canada and NO. 22 in the U.S. Quality Records then credited the single only to "Guess Who?" in an attempt to build a mystery around the record. After Quality Records revealed the band to be "Chad Allan & The Expressions", radio jockeys continued to announce the group as "Guess Who?" forcing the band to accept and change the new name. In 1969 – The Guess Who made their debut on American TV singing "These Eyes" and "Laughing" on ABC-TV's American Bandstand.
Throughout The Guess Who's career the band has had 19 songs on the Hot 100 with 6 songs in the Top 10 Hits, 14 songs on the billboard 200 and 1 song on the Adult Contemporary chart. With a success for over 60 years, The Guess Who are still around today with the music they have created. Many musicians today have recreated the hits that made the band grab the attention of their now called fans from Lenny Kravitz 1999 version of "American Woman" to Tesla's 2007 version of "Hand Me Down World".
Although The Guess Who have already created a name for themselves, the band is still out touring for their fans and creating legend moments throughout the U.S. and country.
­­Original Canada LPs:
Shakin' All Over (1965)
Hey Ho (What You Do to Me!) (1965)
It's Time (1966)
A Wild Pair (with The Staccatos) (1968)
Wheatfield Soul (1969)
Canned Wheat (1969)
American Woman (1970)
Share the Land (1970)
So Long, Bannatyne (1971)
Tockin' (1972)
Artificial Paradise (1973)
#10 (1973)
Road Food (1974)
Flavours (1974)
Power in the Music (1975)
The Way They Were (1976)
Guess Who's Back (1978)
All This for a Song (1979)
Now and Not Then (1981)
Lonely One (1995)
The Guess Who have had several new members throughout the years, below is an image showing exactly that.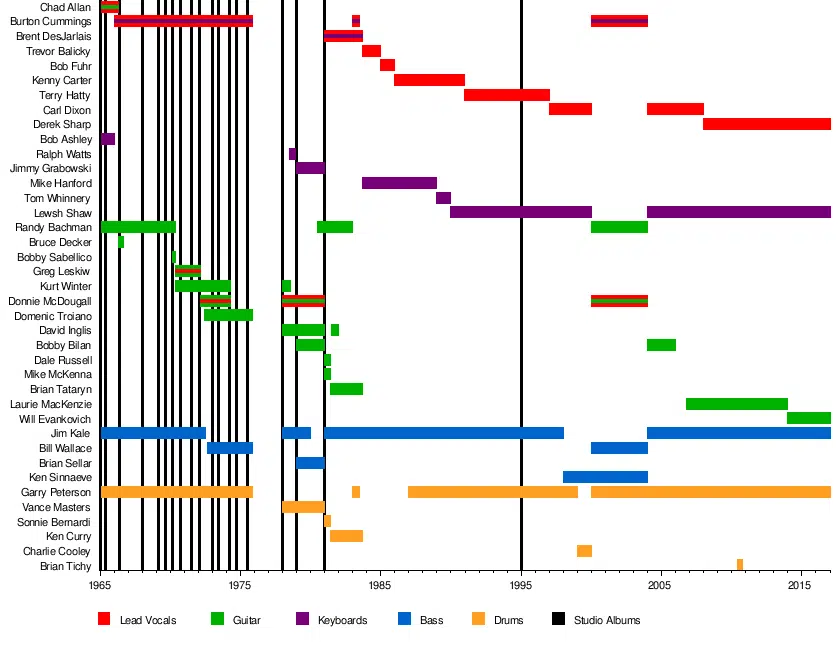 Sources: 
https://en.wikipedia.org/wiki/The_Guess_Who
https://www.billboard.com/music/the-guess-who/chart-history/hot-100