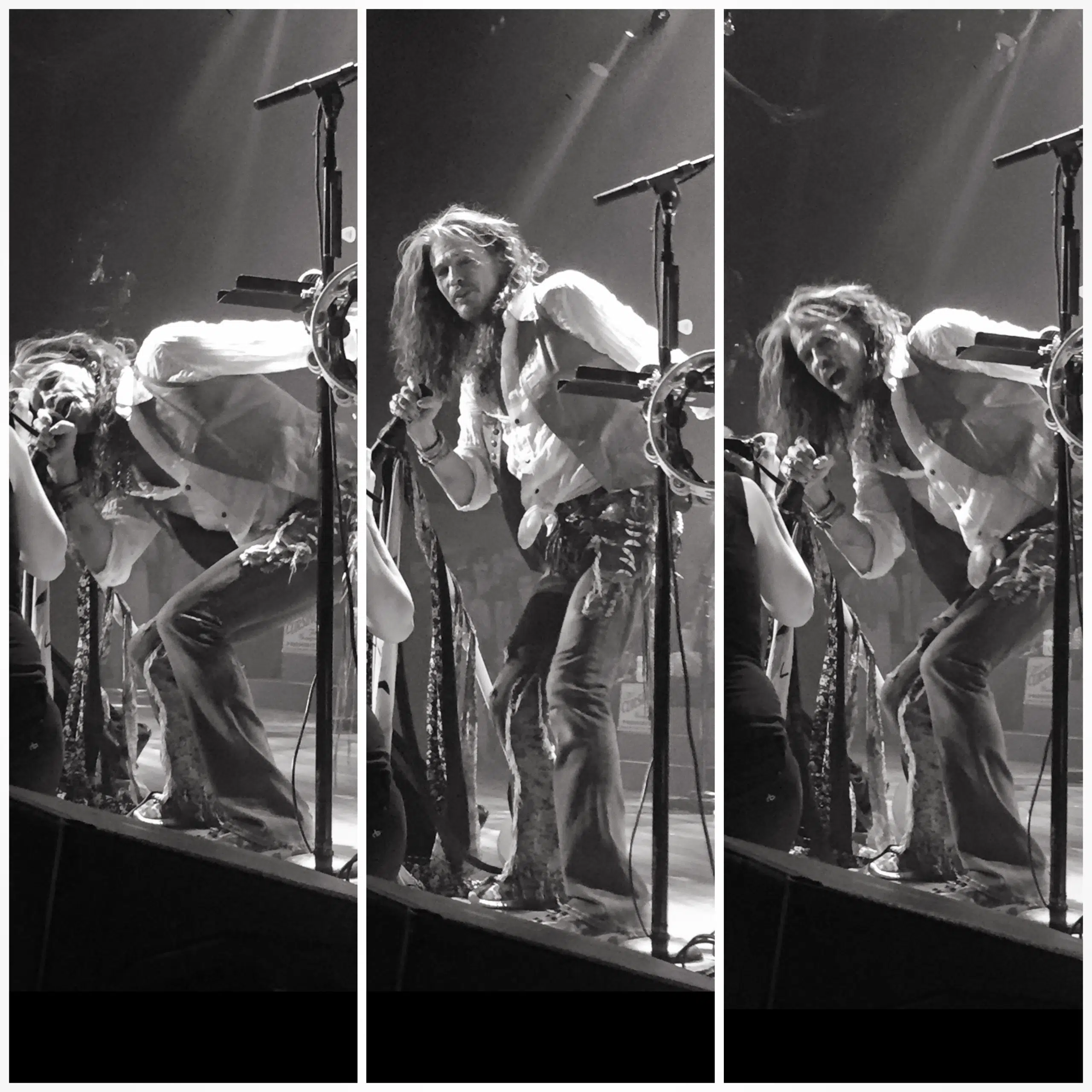 Steven Tyler may have turned to country music in the last year or so, but there was no way you could tell last night.
Headlining his first show ever in Nashville (and at the granddaddy of all music venues), he didn't take ANY time sparking the flame at the Ryman Auditorium on Wednesday night.  Kicking the show off with classic hits like "Sweet Emotion" and "Crying", it was clear that Tyler sounded as good as he ever has… and he's 68 years old.  Holy smokes!
Currently on his "…Out On A Limb" Tour and promoting his brand new album "We're All Somebody From Somewhere", Tyler expressed that his new music and his new sound is "country music as I see it."  During the night, he claimed that country has always been a huge part of his music life.  He even hinted that if you listen to Aerosmith songs over and over again, you will hear some country influence that you didn't realize was there.
He spent a lot of time in the show storytelling about new and old songs, explaining how they came to life.  Showcasing the musicians in his band, and, well… Several members in the crowd, he made sure to give credit where credit was due.  Among the crowd, country music star and acclaimed writer Eric Paslay was in attendance, who co-wrote with Tyler on "Love Is Your Name."  Even with the new songs, he continued to captivate the crowd with powerful efforts, including the title track, "We're All Somebody From Somewhere", and the island-inspired "I Make My Own Sunshine."
But let's not get carried away.  He certainly brought out some of the more incredible sounds that only a band like Aerosmith could create.  The Ryman was ROCKIN' as he belted classics like "Walk This Way", "Dream On", "Jaded", while also slowing it down during a darker, mysterious performance of "Janie's Got A Gun."  As if the entertainment couldn't get any better, the show took an incredible turn as Tyler paid homage to his influences.  He performed several Beatles' songs like "I'm Down", "Oh Darlin'", and (of course) "Come Together." He also collaborated with one of the band members in their rendition of the late Janis Joplin's "Piece of My Heart."  In his appeal to the Nashville audience, he threw a little Cash in there as well with his own version of "Orange Blossom Special" toward the end of the night.
To add it all up, Tyler's performance was A+ material and as authentic as it's ever been.  The crowd absolutely loved hearing their favorite Aerosmith hits mixed with some of the excellent new material that he's touring behind.  Throughout the night, he continued to reiterate that the message of "We're All Somebody From Somewhere" is a tribute to people of all different backgrounds and upbringings.  Regardless of who you are or where you've been,  Tyler made one thing sure – he absolutely loves his Nashville faithful.  In between songs, he stated:
"You're about to hear something… You ain't never going to believe it. It's all because of this town. It's really because of the energy that lives in this town.  Thank you God for this town!"
With a performance like that, you immediately knew that he meant every word.
You can pick up Steven Tyler's new album, "We're All Somebody From Somewhere", everywhere in stores and online.  Be sure to catch him live on his "…Out on a Limb" Tour this fall!
STEVEN TYLER
LIVE FROM THE RYMAN AUDITORIUM – 8.17.16
SETLIST
SWEET EMOTION
CRYING
WE'RE ALL SOMEBODY FROM SOMEWHERE
I'M DOWN (BEATLES COVER)
OH DARLIN' (BEATLES COVER)
COME TOGETHER (BEATLES COVER)
PIECE OF MY HEART (JANIS JOPLIN COVER)
RATTLESNAKE SHAKE
JADED
LOVE IS YOUR NAME
I MAKE MY OWN SUNSHINE
WHAT IT TAKES
RED WHITE & YOU
MY OWN WORST ENEMY
DREAM ON
WALK THIS WAY
ENCORE 1
JANIE'S GOT A GUN
ONLY HEAVEN
ORANGE BLOSSOM SPECIAL (JOHNNY CASH COVER)
TRAIN KEPT A ROLLIN'
ENCORE 2